Started as a specialty bakery in Mikocheni, Epi d'or has transformed into an all-day dining restaurant in prime Masaki Area.
The unique concept of combining a French Bakery with a
Meditteranean Lebanese influenced menu comes from the
founders biculture and love for fine food.
The idea is for our clients to feel at home, and we can quantify this achievement by the number of return and daily guests who have made a section of the restaurant their living room.
Combining warm hospitality with intricate details and carefully selected ingredients.
Épi d'or creates a journey of discovery in each and every visit.
Cuisine & cakes beyond the boundaries of taste
A local favorite, Epi d'or has become the region's
most-visited cafes ordering a delicious cuisine and
mouth-watering array of breakfasts, lunch and dinners
The upscale establishment, where the main star is the food
and the rich selection of dishes as well as coffee and desserts.
The relaxed and homely ambience makes Epi d'or the perfect !t for groups and families looking for an exceptional dining experience to share.
Carefully though of spaces for everyones well being
The quietest space of the restaurant with couches and high tables great for small intimate meetings Perfect to work on laptop while having a sandiwch during the day or for a cocktail with a loved one in the evenings
The indoor is a beautiful space with many little details and catchy materials to look at. The area is always cool and fresh Escape the heat for a business lunch and Ideal for an upscale dinner or to celebrate a beautiful family occasion
Our bar is not only serving delicious cocktails but is also a nice place to sit and have a meal. Comfortable high chairs on a slick marble table Perfect for a solitary meal
The vine is a space we take a lot of pride in. A wide pergola shaded by a beautiful vine, you can often catch a nice breeze even during the day. A unique vibe in Dar es Salaam. Have a quick lunch or a cosy dinner under the dimmed fillament lighting of the terrace.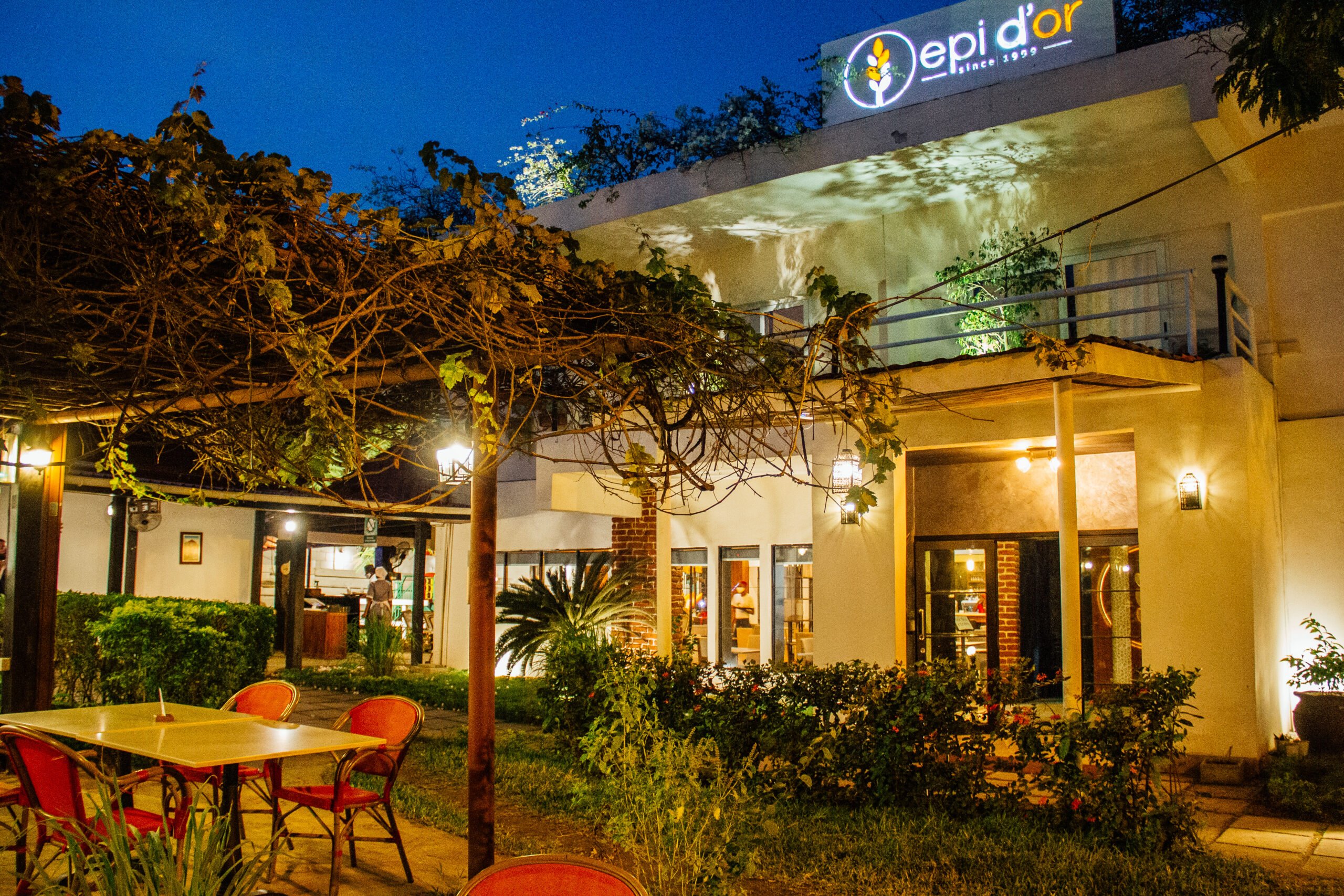 The utlimate family with children area. This is where all the fun happens, Isolated from the rest of the restaurant for parents to let their children express themselves without the guilt of disturbing. Perfect place to organise birthdays and parties of all kind.
Last but not least our bakery shop, A journey for your senses as you enter, See the beautiful display full of delightful cakes. Smell the captivatin scent of freshly baked bread and pastries, or the fruity flavors of freshly pressed citrus fruits.